All pupils are encouraged to help organise and support a range of activities to contribute to local and national charities. In doing so we feel it is important to raise their awareness that there are people in the world less fortunate, and that people's practical needs can be met.
Pupils are regularly involved in various events and themed days to raise funds for worthy local and national causes. Last year we supported a number of charities and good causes including Children in Need, Haven House and the Jeans for Genes charity.
Sisters donated hair to the little princess trust
Millie and Ava, twin sisters in Year 6, together with Annabel, their 7-year-old sister in Year 2, have donated some of their hair for the second time to 'The Little Princess Trust'.
This is a charity which was created in 2006 that provides real-hair wigs, free of charge, to children and young people, who have lost their hair through cancer treatment or other conditions. Since 2006, the charity has supplied over 8,000 wigs to cancer sufferers.
Because the charity uses real hair, the wig can be cut, curled, or straightened to match the person's original look – or to create a new style.
All three girls had their hair cut on 7 May 2021 by a friend of the family, who is a professional hair dresser. They all had between 10-12 inches cut off and had to follow very clear instructions provided by the charity. Millie and Ava described the procedure:
Washed our hair with shampoo and conditioner
Then we blow dried it
Put our hair in 2 bunches and then plaited each one
The plaits were cut off above the hairband
Placed our plaits in a plastic bag and sealed it
Registered online on the charity website so that we could post our hair off to the 'Little Princess Trust'.
All the girls are looking forward to receiving their certificates in recognition of their charitable gesture.
Well done girls!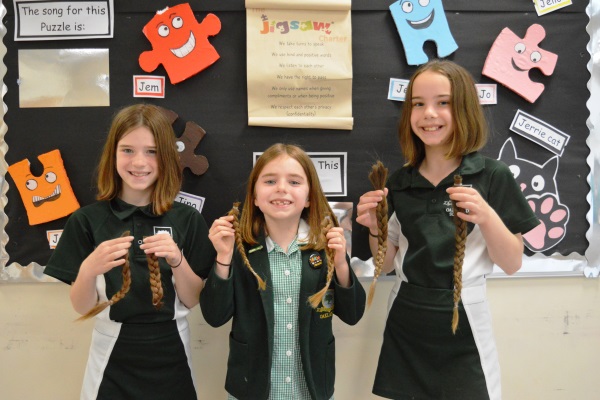 Our pupils made a fantastic effort to support Children in Need today. Children came to school in lots of colourful or spotty clothes for the day, and we even had our own Pudsey Bear face paint. Thank you to all of our parents and pupils for their generous donations!
Jeans for Genes Day
Pupils enjoyed taking part in Jeans for Genes Day. The pupils all came to school wearing a piece of denim, be it a pair of jeans, a jacket or even dungarees. They all also brought in a donation for the Jeans for Genes charity, which will make a big difference to the lives of children and families living with genetic disorders. In total £279.90 was raised, thank you everyone for your generosity!
Harvest Festival
A massive thank you to all our pupils and parents for their generous donations to our Harvest Festival Assembly! The donations were sent to the White Chapel mission, where they will distribute the food to those in need.
Macmillan Coffee Morning
A big thank you to the staff at Oaklands who raised £141.47 during their Macmillan Coffee Morning!
NHS
Every year, Year 6 run a highly successful mini fete for the younger children in the school. This year they came up coming up a range of ideas such as dance offs, guess the song, guess how many sweets in the jar, a football quiz, treasure hunt and more.  Everyone had a wonderful day and overall £536.71 was raised for the NHS! Well done Year 6 and thank you to everyone for their donations.
Sport Relief
To celebrate Sport Relief this year, pupils and staff joined forces and dressed as their favourite Sporting Hero. It was fantastic to see so many amazing outfits and happy faces at Oaklands and the school are so proud of everyone's efforts to make it an enjoyable day. In the end we raised an incredible £212.95 for Sport Relief which is sure to make a huge difference. Thank you everyone for your donations!
NSPCC
The whole school took part in the NSPCC Numbers Day. Everybody wore clothes with a number on and took part in special Maths activities during the day. Years 1 to 6 enjoyed a "Who wants to be a mathionaire" quiz and were challenged to apply their knowledge to answer tricky questions. In assembly the Year 6 children in Willow House told the children in Key Stage 1 and 2 about the work the NSPCC do to protect children and how Childline has helped many children around the country.
Haven House
In December, the Early Years department took part in a Festive Feet Funday to raise money for Haven House. They all wore festive socks before participating in a sponsored Danceathon, lasting 15 or 20 minutes depending on the children's age. Thank you all for your generous donations, the children were delighted to present a cheque for £960 to Haven House!
Year 5 also raised money for Haven House, by holding an afternoon tea for their parents. They baked all the cakes and scones themselves and raised over £80!
Some charities we have supported over recent years have been:
WE Day
Zambia Project
Great Ormond Street
Comic Relief
Guide Dogs for the Blind
Children in Need
Whitechapel Mission
Royal British Legion
NSPCC
Cancer Research UK
Macmillian
And many more…